Coronavirus and Pregnancy: Stay Informed
Navigating pregnancy on its own can occasionally be a time of uncertainty and anxiety. Navigating pregnancy during the Coronavirus outbreak is completely an uncharted territory. Here's what we know about Coronavirus in relation to pregnancy, and what you can do to keep yourself and your family safe.
How does Coronavirus affect pregnant women?
The number of pregnant women who have tested positive for COVID-19 have not been significant enough to run in-depth studies, and researchers are still conducting tests and observations as new relevant cases emerge. According to the American College Of Gynecology, Coronavirus does not show up any differently in pregnant women than it does the general public.
Can Coronavirus be transmitted in uterus, during birth, or through breastfeeding?
One study from China reported that out of 33 infants born to mothers with COVID-19, three tested positive days after birth, possibly through in utero transmission. Other studies have hinted at the possibility of in utero transmission based on elevated levels of certain antibodies, although the newborns tested negative for the virus. According to the US Center for Disease Control and Prevention, Coronavirus has not yet been detected in breastmilk, but studies are still being conducted to determine whether breastfeeding is a method of transmission for the virus.
How will Coronavirus affect my prenatal visits and labor and delivery?
Hospitals and doctors' offices across the globe have implemented alternative methods of physically visiting your doctor to avoid having to leave your home. Some of these options include doctor visits via telephone or video call and close contact via email to address any non-emergent concerns. Your doctor's office should reach out to you to discuss the different options you have to consult with them while avoiding having to make a trip out of the house.
If you do need to visit your doctor in person, hospitals and doctors' offices nationwide have implemented safety measures to ensure that patients and staff are staying protected. If you have concerns you should always remember to discuss them with your doctor prior to making your visit.
You should take some time to review your birth plan with your OB-GYN. Be sure to discuss safety measures that are in place to ensure you have a complete understanding of them prior to going into labor. It's important to bring up any concerns you may have and ask questions about Coronavirus protocol as well as who can be in the birthing room with you during labor.
What can I do to protect myself and my family?
It is important to stay up to date on the guidelines put in place by local public health authorities and to abide by those guidelines. Some personal practices you can put in place regardless of your local public health mandates include:
Wash your hands frequently with soap and water for at least 20 seconds
If you're not able to wash your hands, clean them with hand sanitizer than contains at least 60% alcohol content, and let them air dry completely before touching anything
Avoid touching for nose, eyes, and face
Avoid leaving the house unless it is for essential errands
Wear a face covering if you have to be in a public area
Maintain a safe distance (6ft or more) from those who do not live with you
Stay well-hydrated
Get 7-8 hours of sleep every night
Maintain a healthy diet
Stay active and try different forms of safe exercise at home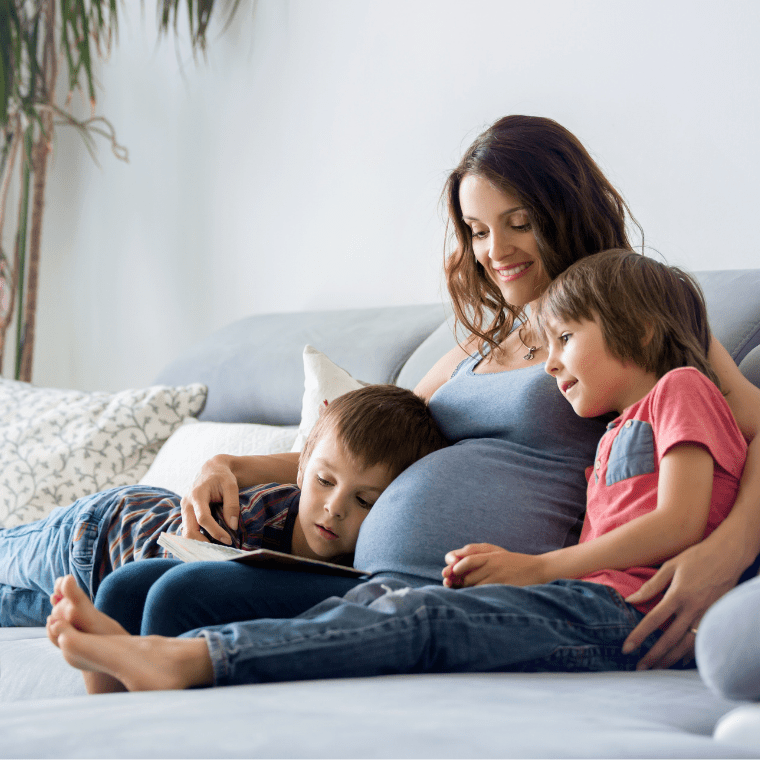 What should I do if I think I have the Covid-19?
If you think you may have been exposed to the coronavirus and have a fever or cough, call your OB-GYN or other health care professional for advice. If you have emergency warning signs, call the emergency line or go to the hospital right away. Emergency warning signs include the following:
Having a hard time breathing or shortness of breath (more than what has been normal for you during pregnancy)
Ongoing pain or pressure in the chest
Sudden confusion
Being unable to respond to others
Blue lips or face
The more you can stay informed and practice safety guidelines, the better chances you have of keeping you and your family safe and healthy. Always remember to contact your OB-GYN or Primary Care Physician with any questions or concerns you may have.
Watch more Women's Health stories and keep yourself informed.
Resources:
Coronavirus and Breastfeeding; CDC; March 2020
Coronavirus (COVID-19), Pregnancy, and Breastfeeding: A Message for Patients; ACOG; April 2020