How to Explain Breast Cancer to Your Mom
Breast cancer occurs when cancer cells form within the breast tissue. These cancer cells start to multiply faster than the surrounding cells, which causes a mass to form. It more commonly begins in the milk-producing ducts, called invasive ductal carcinoma (IDC).
How Does Breast Cancer Happen, and Why is it So Common?
Breast cancer is so common, especially in women, because of the estrogen and progesterone hormones we produce. These hormones have growth-promoting effects, and because breast tissue is constantly exposed to these hormones, cancer cells within the tissue can grow faster than if they had appeared elsewhere in the body. 
Can Breast Cancer Spread to Other Parts of the Body?
In the later stages of cancer, the mass can metastasize, or spread, into other parts of the body. The first thing it can spread to is the lymph nodes. These small glands are found under your arms, inside your breasts, and near your collarbone. When cancer is in the lymph nodes, there are usually little to no symptoms and can go unnoticed. Once it spreads beyond these glands and into other parts of the body, it is considered metastatic, or stage 4 cancer. It can spread to places such as the bones, liver, lungs, or brain₍₁₎. 
What are Visible Signs of Breast Cancer?
Visible signs of breast cancer commonly include redness, swelling, and Peau d' orange₍₂₎. Peau d' orange can be best described as small dimplings on the skin akin to an orange peel, hence its name.
Other signs can include:
Nipple crusting
 A sunken-in nipple
A large dimple in the breast
A large, visible bump on the breast
A growing vein around the breast
New or unknown fluid leaking out of the nipple₍₃₎
Another sign is a hard lump within the breast itself. This hard lump can't be seen externally but could be felt when performing a breast self-exam. Since most women typically have some lumps in their breasts, it should only cause concern if it is new or doesn't disappear after your cycle if you still menstruate.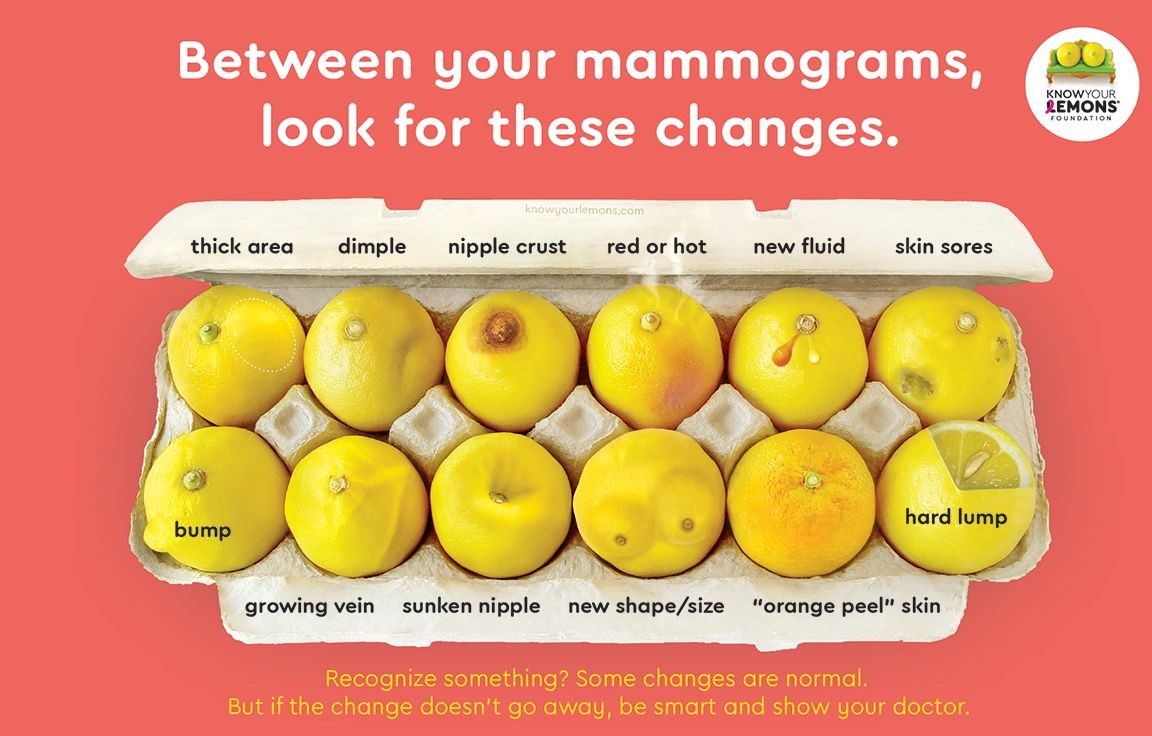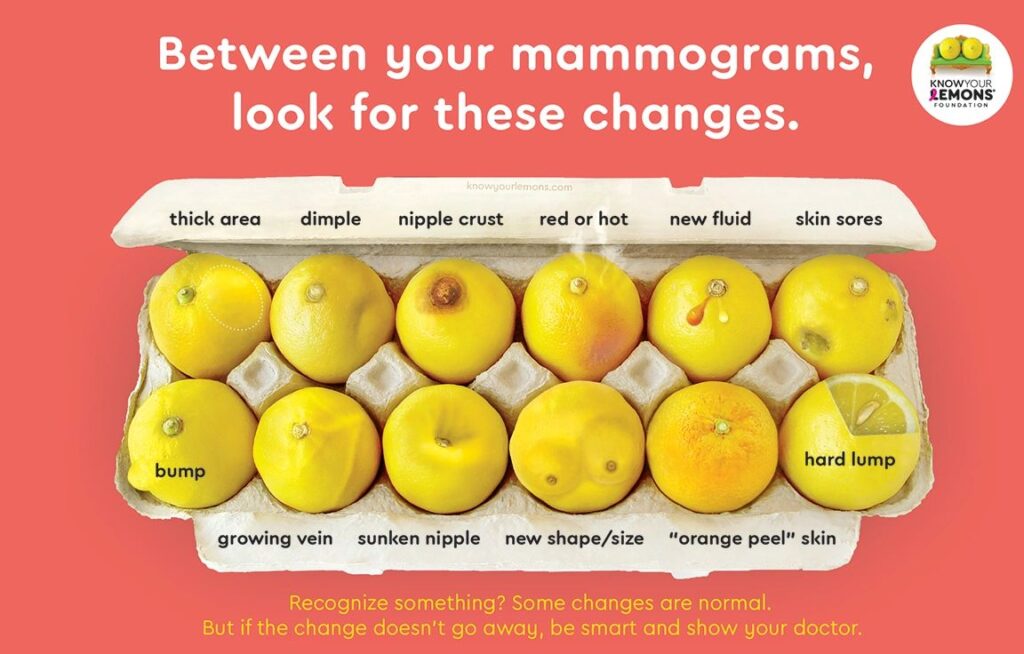 What Are Some Risk Factors for Breast Cancer?
Researchers can't pinpoint the exact causes but can only speculate that its risk factors are a combination of your genetics and environment. They have found that 5-10% of breast cancer is caused by genetic mutations that are passed down through families. Two of the more well-known mutations are breast cancer gene 1 and breast cancer gene 2, otherwise abbreviated to BRCA1 and BRCA2₍₄₎. There are, however, many other different risk factors for it. To name a few, these include: 
● Increasing age
● A personal and family history of breast cancer
● Radiation exposure
● Drinking alcohol 
● Obesity
Some other elements, such as hormone replacement therapy, HRT for short, can increase the risk of developing breast cancer. There are two types of HRT called combination HRT and estrogen-only HRT. Combination HRT contains estrogen and progesterone, and it's the latter that makes this type of HRT significantly increase the risk of getting breast cancer during the first 2-3 years of its usage. It can also increase the chances that it's found during a more advanced stage, such as stage 4, where chances of survival are lower. On the other hand, estrogen-only HRT only increases the risk of breast cancer after about 10 years of usage₍₅₎. 
Can My Breast Implants Cause Breast Cancer?
Breast implants have shown no connection to causing breast cancer. Textured implants, however, can potentially cause anaplastic large-cell lymphoma, or ALCL for short. ALCL is a rare form of cancer that starts in the lymph nodes and can get stronger as it metastasizes to the blood cells. It is believed that the textured implant's surface can trigger the immune system to respond and potentially lead to cancer in the lymph nodes. Experts have found that 93-96% of women diagnosed with ALCL also have textured implants. Of course, that doesn't mean that most women who have textured implants will get ALCL, it's an estimated 1 in 50,000 chance₍₆₎, but it does mean that there is a strong connection between the two. 
What Are Some Ways to Get Screened, And Why is it So Important?
The most common way to screen for cancer is with an ultrasound or a mammogram. Both results from the screenings turn out to be a black and white image. On the mammogram, a cancerous growth would appear as a bright, oddly-shaped area that is fuzzy or spiky around the edges. On ultrasound, it would appear as a darker grey spot, indicating that it is a more solid mass than the surrounding tissue. Like on a mammogram, it also has spiky or oddly-shaped edges. 
Breast cancer screening is vital because it can help identify cancer during its early stages, making it easier to treat and more likely to survive. About 99% of women survive from the early stages but only 28% survive if found during stage 4₍₃₎. Stage 4 is when the cancerous mass spreads to other parts of the body, as discussed earlier. 
There is ongoing research looking into a new way to screen for breast cancer using breath technology for those in an area or circumstance where they can't get either of the above screenings done. We at Altus Lifescience are currently using electronic noses to detect Volatile Organic Compounds, or VOC for short, in breast cancer. In terms of cancer, VOCs are produced by cancer cells and are considered cancer biomarkers for diagnostic purposes. This new technology is set to offer a new frontier in Breast Cancer screening and scrutiny. We have collected enough research data to support the use of VOCs in exhaled breath to detect breast cancer. We believe that this technology can significantly improve patient outcomes and reduce the number of breast cancer-related deaths, especially where screenings via mammograms or ultrasounds are out-of-reach. If you are interested in learning more about this new technology we are developing, you can check out our video on "What if Breast Cancer Could be Detected in a Breath Test?".
We know time is critical, so if you didn't get a chance to read then give this video a glance.  (Psst..It's less than 2 mins)
Resources: 
(1) "Where Breast Cancer Spreads: Lymph Nodes, Bones, Liver, Lungs, Brain." WebMD, WebMD. 
(2) "Pictures Of Inflammatory Breast Cancer." The IBC Network Foundation, 8 Jan. 2021. 
(3) "What Does Breast Cancer Look And Feel Like. See 12 Symptoms." Know Your Lemons Foundation, Know Your Lemons Foundation, 2020, knowyourlemons.org/symptoms. 
(4) Mayo Clinic Staff. "Breast Cancer." Mayo Clinic, Mayo Foundation for Medical Education and Research.
(5) "Using HRT (Hormone Replacement Therapy)." Breastcancer.org, 21 Apr. 2021
(6) Martin, Laura J. "Breast Implants and Cancer: Is There a Link Here?" WebMD